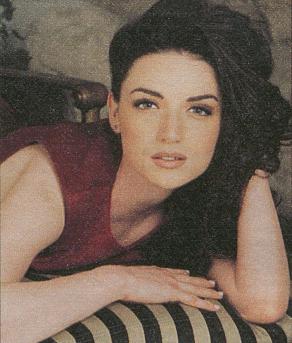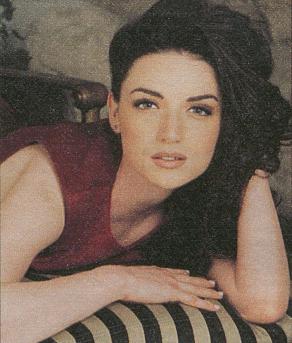 ---
---
---
Charissa In The Press

---
---
---

Straight Up With A Twist
Article taken from "Soap Opera Weekly" DTD: 13 JUN 2000 by Valerie Davison, photography by Sean Kahil
Charissa Chamorro is serving up a unique and refreshing character in OLTL's Llanview…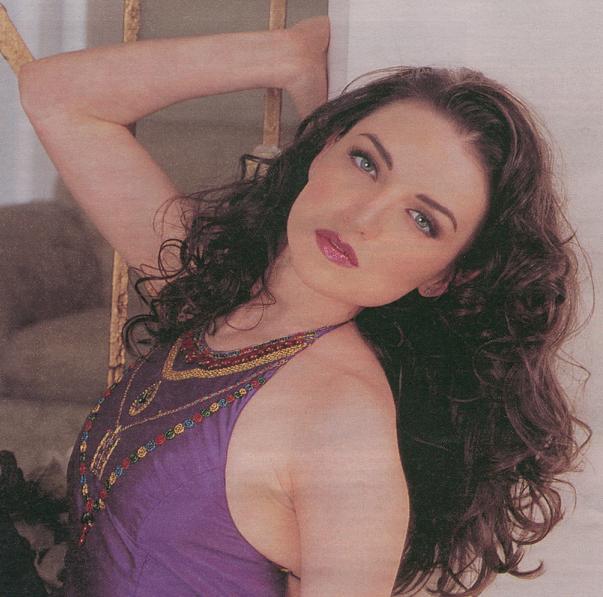 *********************************************************************************************************
Overheard in an imaginary movie studio pressroom, circa 1945: "OK, here's the scoop on the new girl. She was born in Baytown, Texas, to a beautiful journalist and a handsome refugee from a South American dictatorship. Her grandmother was an Indian princess, and her grandfather was an opera singer. She grew up in Chile and speaks fluent Spanish. And here's the best part: We're going to call her Charissa Chamorro."
Hollywood's golden-age publicity departments routinely made up both names and bios for their newly acquired contract players, but in the case of One Life To Live's Charissa Chamorro (pronounced Sha-reesa Sha-morro – aka Sophia Pelligrino) they wouldn't have had to. Most of those catchy details are true, and only improve with elaboration. "Everybody thinks I made it up," she says referring to her name with a cool grin, "My close friends tell me it's my destiny to do this [soap opera], because my life has been so wild it reads like a biography."
Her mother was working as an anchor for a local television station when she met Charissa's father, who, along with his brother, had fled Augusto Pinochet's repressive military government in the late '70's by obtaining work as a welder with the merchant marine. He jumped ship in Galveston, Texas, then met up with his brother, who also had made his way to the U.S. In a matter of months, the two Chamorro brothers married two Hamilton sisters, thus becoming U.S. citizens.
"My mother was a newscaster in Longview, Texas," Chamorro says. "She would pursue her own stories and write her own copy. I always wanted her to go back to it, but she never really liked it because she felt like an ambulance-chaser. My aunt introduced my mother to my dad, and since the two sister married the two brothers, I'm related on both sides to my cousins." While Chamorro's aunt and uncle are still together, her parents' marriage lasted only six years. "They thought they were madly in love, but once it came down to it, she was very independent, and he was very traditional. They were different people."
Chamorro did spend one year (at age 11) in Chile, but that was only after several years of traveling between both parents within the U.S. Before her father returned to Chile, she and her brother lived with him for months at a time in Utah and Wyoming; then her mother decided to star them in their own road move. "We sold everything we could," she relates, "piled everything else on top of our Taurus, took our little dog and set off across the country. We expected to end up in California, because my mom had a job offer there, but for some reason or other it didn't work out and we would up in Washington state." Shortly thereafter, what was supposed to be a 3 month visit with their father in Chile turned into a whole year.
"It was hard," Chamorro recalls. "My brother wanted to stay with his daddy, and I didn't want to have to choose. I didn't want to say, 'I want to go home now.' Finally my mom just came and got us. The year I lived there, Pinochet was stepping down and they were electing a democratic government, [but] there were protests constantly, and graffiti everywhere that said, 'Si o No', for Pinochet. One day the city was tear gassed, but it was never on the news. Nothing was ever on the news, because [the media] was all controlled by the government. My grandparents always carried a wet cloth to hold to their mouths if they ever got caught in tear gas. Thankfully, they never did."
It was this grandfather who had aspirations to become an opera singer, and actually pursued his dream as far as New York City. "My Spanish grandmother told him she'd divorce him if he became a singer," Chamorro says. "She thought all famous singers died, like Elvis. They had this little farmhouse in Child where we would all go on weekends. There was no electricity and no television, so we'd have talent nights where we'd act out little skits, and my grandfather would sing opera. I was fluent in Spanish then, but not anymore. Thought I can understand it."
As for the Indian princess, her great-great grandmother was a Cree (which is Chamorro's middle name) and, yes, "There's some talk that she was a princess," she says, "My family doesn't know a lot about her, so there are a of myths. The story [I] got was that when her husband was gone, she'd smoke this corncob pipe. One day when he came home [unexpectedly], she hid it in her apron, and her apron caught fire. After that, she jus didn't hide it anymore. She would sit on the porch and smoke it. I come from a long line of rebellious women."
Not much different, apparently, from the one she's playing. Sophia is very willing to thumb her nose at the Lords and Buchanans, even as she longs to be one of them. Chamorro didn't know much about the character when she was called to audition for it, and apparently no one else did, either. "All I knew was that she was a working-class, smart-mouthed waitress," says the actress, who is herself forthright and articulate"I was told from the beginning there was a possibility the role would go contract, but I honestly don't' think I was supposed to be on that show for more than a couple of months. I was told later that when Ben was working at the bar, he needed someone to talk to, so they made up this character, Sophia. I fought to stay on that show. I decided that if I only had five lines that day, I was going to sit there and do the work I learned from four years of training. I would put an intention behind every single thing I was doing, and I was going to have a reason to be at that bar. And I got a contract. It took me eight months, but I got that sucker!"
Chamorro clearly shares her character's single-minded determination, minus the flint-edged attitude. Nor is she unmindful that people have signed onto shows for four months and are still there 14 years later. Whether that's her destiny, there's no doubt it was largely her input that breathed life into Sophia. "That's absolutely the trick," she proclaims earnestly. "I can't tell you how many times I've tweaked something they've written or done. You can even do subtle things with the way you look. Sophia was such a bad guy. Have you noticed lately how she's starting to be good? Because I was bound and determined to show that this girl was not bad, she just came from a bad place. I think a character is so much more interesting if they're not 100 percent bad or good. Nobody's one-dimensional. It's not true to life."
Before Sophia got a real fire going, there were some dank days, and Chamorro found life imitating art, rather than vice versa. "When I was on recurring status at the show," she says, "I only got paid per episode, and there were a few weeks when I didn't work. I had gone to bartending school and was staring work as a barmaid when I got this job. So, I just went out and got a bartending job again. The every first customer I had recognized me from the show. She said, 'Oh my god. You're on One Life To Live! What are you doing here?' And I said, 'Well, I'm doing a little research.'"
Among the several coincidences attending her fast break-in (she got the role after three months in New York) is that her peers at Boston University, where she completed the acting program in 1998, always said she would get a soap right away. "I have no idea why. Maybe it was because I retain things visually. I have kind of a photographic mind and learn lines easily."
Whatever it was, she isn't complaining. "When they decided to make this a long term character," she says, "I got a script where I introduced myself as Sophia Pelligrino. I called up my mother and said, 'I've got a last name' Then I asked, 'Can you please change it? This is a water, for goodness sake.' But that's when they told me, 'Don't rock the boat. It's good if they give you a family.'"
Far from her own family (although her brother is now living in Connecticut with an uncle), Chamorro has managed to slay the daunting dragon that is Manhattan by creating a clan of her own on the Upper East side. "My four best friends from college live two blocks from me. All I have to do is roll out of bed and walk over to their apartment." Still, she misses her mother. She lights up whenever she talks about her. "I was always extremely close to my mother," she says. "I feel like a friend to her, as well. When you come from a single-parent family, the parental relationship is slightly different. But she is an incredible mother. There's no way I would be doing what I'm doing if it weren't for her. Whenever I think there's something I can't do, I just look at her, and I know I can do anything. I want to find her a man, and I'm going to do it. I'm going to find her a producer or something!"