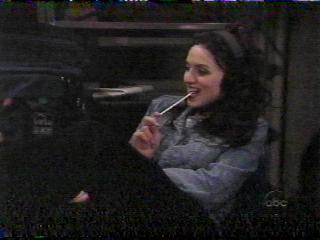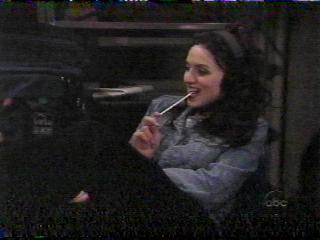 ---
---
---
Fan Encounters with Charissa

---
---
---
Photo by DimWitt & Starrstruck. Do Not Use Without Permission.

By Marcia
"In the fall of 1998, I was lucky enough to bid on and win a OLTL studio tour, and my husband and I had a great day at the studio courtesy of Tim Gibbs and Don Jeffcoat. So when several of my OLTL friends and I decided to take a trip to NYC in March of 1999 (with one goal of seeing Roger Howarth in his Broadway play), I insisted that we stop by the studio. I knew that this time we would have to wait outside to see any of the actors, but I also knew from my tour experience that they were all really nice people. So my friends and I headed up to the studio and it was a really cold winter's day. Several actors did come out for breaks, or to leave for the day, and they were just as friendly as I remembered, which made for a great experience for my friends.
At one point, there wasn't anyone outside, and a young woman came out and was standing on the steps, taking a break. At first I thought that she was probably a crew member, as many of them came out for breaks, and were very friendly as well. It was cold, and she had on a jacket, but I could see that she was wearing an apron, and that shirt that had playing cards on it. The character "Sophia" was fairly new to OLTL (she had only had the bar scenes at that point), and I wasn't sure if she would be around for long; although there was something about the character and actress that had staying power. She looked even more petite in person, which is why I don't think we recognized her at first.
Suddenly I realized who she might be, and I blurted out "Are you Sophia???" She smiled and said that she was, and told us her real name. She seemed really excited, and told me that I was the first person who recognized her, and that she would have to call her mother that night to tell her! So I said to her "Does that mean I'm your first fan?" and she said "Yes!" I told her that we should take a picture together, and that I would send it to her, so she could remember her very first fan. So we took a picture, and she made a really good "Sophia" expression. She talked to us for awhile, even though it was cold out. She told us about her background, where she was from, and how much she was enjoying working at OLTL. We told her that we hoped they kept her for good!
"The most interesting part about meeting an actor, I think, is to see the comparison and contrast between their own personality, and the personality that she/he brings to the character. I would say that Charissa is more unlike Sophia, than she is like Sophia. Charissa was very open and friendly, well-spoken, and seemed to really appreciate the chances she had been given. I would say that Charissa is only like Sophia in her bubbly personality and warmth. That's why I realize what a good actress she is, as I continue to watch Sophia's cynicism and scheming. Although, lately, there is a glimpse of Charissa underneath, as she brings depth to the character".
I have to say that meeting Charissa was one of the highlights of that trip. Everyone was so impressed with her, and we were so happy the day that we heard OLTL would be keeping her around. I did end up sending her the picture, and she wrote me a letter back, telling me she would always cherish the picture. I thought that was really sweet of her to say! She has the picture, but I have the great memories of meeting her, and I know that she will continue to show us more of her great talent in the future.