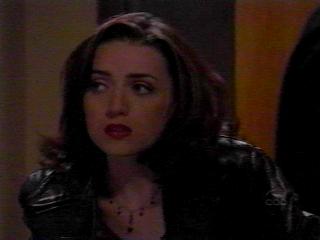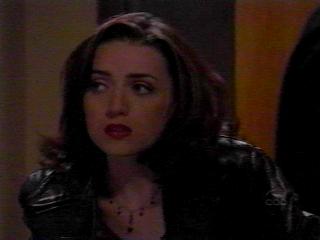 ---
---
---
Fan Encounters with Charissa

---
---
---
Photo by DimWitt. Do Not Use Without Permission.

By Marcia
DTD: NOV 2000
Hey, just wanted to post on this website about seeing Charissa in NYC again! My original meeting with CC is posted on this site under fan encounters. This past weekend my mom and I went to NYC to see a play and we got on Regis Live - my mom loves Regis. So after Regis, my mom and I were walking to the studio (only a block away) but my mom has a really hard time walking (she's 73) so we decided she would stay a block away and sit at Barnes and Noble. I got her settled and was taking the escalator back up to the first floor, and was going to buy film before going to the studio, in particular, to see CC. My mouth fell open as I get to the top of the escalator is CC looking at books. I said "Charissa??????" I was so shocked I think I shocked her! I said "Do you remember me?" and she said "Yes, yes, you were my first fan, I was just looking at that picture and letter the other day!" and she hugged me! I told her I was on the way to buy film to stop by and see her, and I couldn't believe it was her! I said "I think we're meant to be" and laughed. I called down the escalator to my mom and she came up. CC was so great and she had to get back to finish blocking, but told me to stop by the studio again at 11:45 since I wanted a picture. I was also kidding her that Sophia was "good" now, and she said that Sophia had gotten really "good" especially with Antonio, but that we would see some scheming coming up. So I went to get film, and my mom decided to walk to the studio with me. My mom couldn't believe how nice CC was, and thought she was also really beautiful. I have to say this - CC had on no makeup, and I think she is prettier without makeup - can you imagine?
Anyway, we got to the studio, and waited. Several other people came out and I asked if I could take their picture - everyone was really nice as usual.
Then CC came out, and she hung there with my mom and I for almost a half hour. She was great, and was talking about the internet, and mentioned THIS WEB PAGE - Dim's page, and my write-up about meeting her previously. She, along with a couple others, said they didn't spend a LOT of time on the internet, 'cause they were afraid of reading some stuff - can't blame them, 'cause so much of the internet is vicious. I told CC that she had received almost all positive comments though, which is unusual. I told CC what I said to JB and how I was kinda foot in mouth. She was laughing saying "Yeah, it's like people have told me 'you look so much thinner in person' and she is like 'gee thanks'". We talked about so much stuff, and my mom was asking if CC's mom was concerned about her being in the business, etc. CC seems really close to her mom, and was SO nice to mine. She asked me when I would be back in NYC and to let her know. She hugged both my mom and I and kissed my mom goodbye. I'm telling you, this girl is so nice, and beautiful inside and out. She also seems like a really fun person! She seems really happy there, and still has 2 years on her contract. She also seems, a bit, like she wants to see Sophia be scheming again. She is so NOT Sophia, though. She is self-assured and majorly down-to-earth.
It just makes the show so much more enjoyable to watch knowing that the people there are so great. I was telling CC that I work during the day and tape OL and GH for a stress release at the end of the day. She said that's why she used to watch OL and GH, and she still tries to catch GH when she can.
Well, I'll be back to watching CC back on TV this week. And I know what's going to happen - I'll be right back into the character of Sophia like I was last time, and not connecting her to CC - that's how good of an actress she is - I forget the real person while I'm watching. And that's exactly why she's so successful. But when I'm not watching, I'll have great memories of the highlight of my trip!